Prescription drugs misused by 1 million Australians in year, report shows
Australian Institute of Health and Welfare report also finds 'substantial rise' in drug-induced deaths involving prescription drugs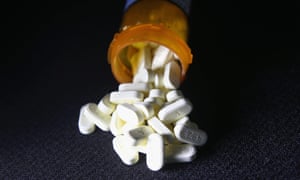 Oxycodone, morphine and codeine accounted for 550 drug-induced deaths in Australia in 2016, new analysis shows. Photograph: John Moore/Getty Images
Australian Associated Press Tue 19 Dec '17 10.28 AEDT
One million Australians misused pharmaceuticals in the previous 12 months, a new report has found.
Analysis by the Australian Institute of Health and Welfare showed the misuse of powerful prescription medications for non-medical reasons was rising and accounted for more drug-induced deaths than illegal drugs.
"Over the past decade, there has been a substantial rise in the number of deaths involving a prescription drug, with drug-induced deaths more likely to be due to prescription drugs than illegal drugs," said an institute spokesman, Matthew James.